CCCEP student Harriet Thew at COP21
Posted on 3 Dec 2015 in Announcements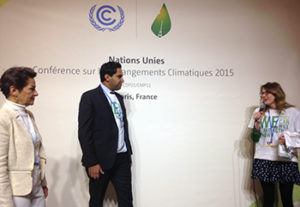 CCCEP student Harriet Thew has been making headlines with a presentation to UNFCCC executive secretary Christiana Figueres at the Paris climate talks.
Harriet, based in the School of Earth & Environment at the University of Leeds, thanked Ms Figueres and UN Youth Envoy Ahmad Alhendawi for their work to support youth empowerment and presented them with T-shirts to mark Young & Future Generations Day at the summit.
Harriet, whose work centres on UK youth participation in climate change decision-making, is present at the summit throughout representing youth interests.
On Sunday (Dec 6)  she will feature in the Paul Hudson Weather Show, broadcast at 12pm on BBC Radio Leeds and Radio York, and then available to listen to here.