How do we influence corporate actions on climate change? Lessons from the world's largest retailers
Posted on 21 Oct 2020 in Press releases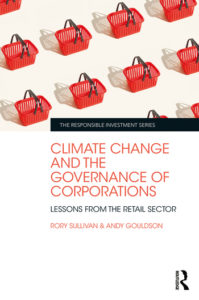 London, 13 October 2020: The ESRC Centre for Climate Change Economics and Policy and Chronos Sustainability are pleased to announce the publication of Climate Change and the Governance of Corporations: Lessons from the Retail Sector.
The book, published by Routledge, is co-authored by Dr Rory Sullivan (CEO of Chronos Sustainability,and Visiting Professor at the Grantham Institute on Climate Change and the Environment at London School of Economics and Political Science (LSE)) and Professor Andy Gouldson (Professor of Environmental Policy at the University of Leeds).
The books explores how government policy measures on climate change impact on corporate behaviour, and offers unique insights into how investors, policymakers, consumers and NGOs can influence company practice and performance on climate change.
Sullivan and Gouldson's research analysed the supermarket/retail sector over a 15- year period,with a particular focus on the world's 25 largest retailers and the UK, US, French, German, Japanese and Australian retail markets. The research was underpinned by interviews with the senior management and key decision-makers within these companies, and with key stakeholders.
Dr Rory Sullivan, CEO of Chronos Sustainability and Visiting Professor at LSE commented: "How ambitious will companies be? Ultimately, most will be as ambitious as the climate policy targets in the countries or regions in which they operate. While some have gone further – examples include the John Lewis Partnership and Marks and Spencer – the reality is that, for most companies, the vast majority of companies, the business case is the beginning and end of the story. If something can be justified in terms of the financial benefits exceeding the financial costs, it will happen. If not, it is much less likely."
Professor Andy Gouldson, Professor in Environmental Policy, University of Leeds said:"Corporations have a central role to play in the fight against climate change. We have to find ways to ensure that they go further and faster as they cut their carbon footprints. This means finding new ways to govern or influence their activities – both from the outside through new forms ofgovernment policy or pressure from investors, customers or other stakeholders, and from the inside through the activities or visionary leaders and determined employees. These forms of influenceurgently need to expand the business case for climate action – otherwise these corporations will continue to lead us into dangerous climate change."
Reflecting on the wider lessons of the book, Dr Rory Sullivan, CEO of Chronos Sustainability and Visiting Professor at LSE commented: "While our focus was on retailers, our findings are relevant across the retail, creative, technology, services and financial services sectors. These are all sectors with characteristics that are similar to those in the retail sector; they have long and complex supply chains, they have extensive interactions with and influence on their customers, and they face relatively little regulatory attention on their environmental or climate change performance. As with retailers, these companies can set and deliver on ambitious long-term targets. Yet, for most, the reality is that they will see the business case for action as setting limits on what they can achieve."
Professor Nicholas Stern, Chair of the Grantham Research Institute on Climate Change and the Environment, London School of Economics and Political Science (LSE) and Head of the Stern Review on the Economics of Climate Change commented: "Private companies have a critical role toplay in supporting and enabling the transition to a zero- carbon economy. Corporate action is shapedby the interplay of external pressures and internal governance systems, processes, cultures and values. This book makes an important contribution to understanding these dynamics and helping companies accelerate the zero-carbon transition."
Ends
Notes:
Climate Change and the Governance of Corporations: Lessons from the Retail Sector by Rory Sullivan and Andy Gouldson can be obtained from: https://www.routledge.com/Climate-Change-and-the-Governance-of- Corporations-Lessons-from-the-Retail/Sullivan-Gouldson/p/book/9780367497187
For interviews or for further information, please contact Amanda Williams (Director of Communications, Chronos Sustainability) at amanda@chronossustainabilty.com or on +44 7534 702797.
Rory Sullivan is CEO of Chronos Sustainability, Visiting Professor in Practice at the London School of Economics and Political Science (LSE), Senior Associate at the Cambridge Institute for Sustainability Leadership and General Editor of the Routledge Responsible Investment series. He is an internationally recognised expert on climate change, human rights and
Andy Gouldson is Professor of Environmental Policy at the University of Leeds. He was one of the founding Directors of the ESRC Centre for Climate Change Economics and Policy, and is currently Co-Director of the ESRC Place-based Climate Action Network where he works with cities and towns to design and deliver ambitious climate action. He has worked on environmental policy and management for 30 years, and has acted as an advisor to central, regional and local government on how to transition to low carbon development in many contexts around the
The ESRC Centre for Climate Change Economics and Policy (CCCEP) brings together some of the world's leading researchers on climate change economics and policy, from many different disciplines. The Centre's mission is to advance public and private action on climate change through rigorous, innovative research. See further: https://www.cccep.ac.uk/about-us/
Chronos Sustainability was established in 2017 with the objective of delivering transformative, systemic change in the social and environmental performance of key industry sectors through expert analysis of complex systems to deliver practical, effective solutions, through engaging with the full spectrum of stakeholders and through building effective partnerships. See further:https://www.chronossustainability.com/